Overview
Welcome to the Department of Neurology at VCU School of Medicine's residency program!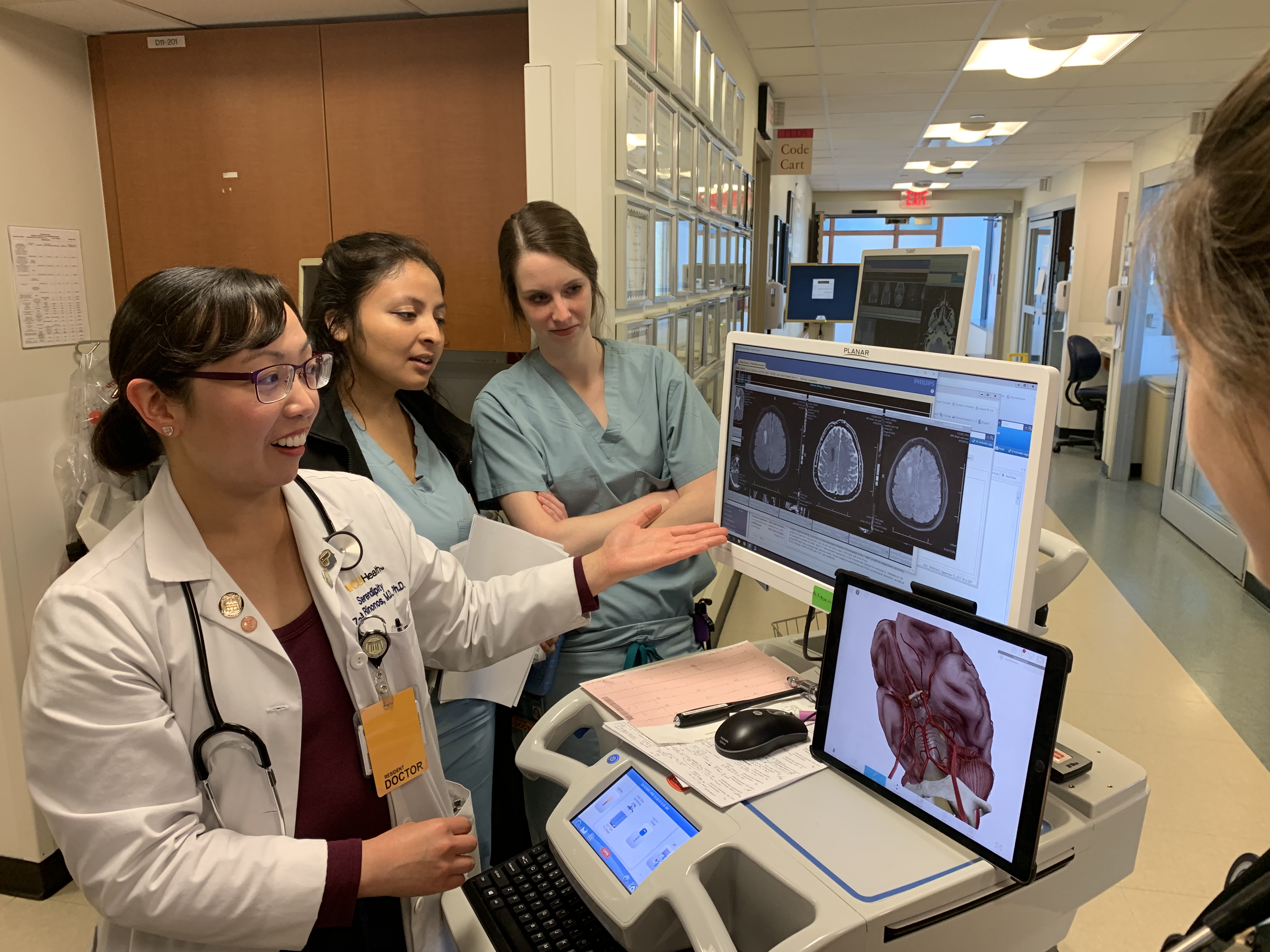 I am delighted that you're pursuing a career in neurology, a fascinating and dynamic field currently undergoing an incredible period of growth and discovery.
Our residency program provides world-class clinical training in a supportive and collegial environment, while ensuring our graduates obtain the skills they need to become leaders and pioneers in the field of neurology.
You can expect a comprehensive education in the diagnosis and management of common and rare neurological diseases in a diverse patient population. Skilled clinicians, researchers and educators who are deeply invested in your educational development and success will provide guidance and mentorship throughout your time at VCU.
Our program is designed with flexibility, and we encourage you to pursue educational opportunities and personal growth outside of your core clinical training. This gives you the chance to explore interests you may have in areas such as subspecialty care, research, education and international medicine.
Just as this is an exciting time to be a neurologist, it's an especially exciting time to be at VCU. Our department is experiencing a period of growth and development, allowing even more opportunities for our residents as they pursue careers in neurology. We're actively expanding our already robust complement of subspecialists and the residency program has grown to include eight residents. I'm excited for you to contribute your own passions, interests and talents to the growing department and leave your mark on the residency program.
Warmly,
Jon Snider, MD
Director, Neurology Residency Program
Department of Neurology
Rotations
The Department of Neurology operates on a 13-block rotation schedule.
About half of PGY-2 is spent in inpatient services and at the Hunter Holmes McGuire Veterans Affairs Medical Center, with 12-week rotations at each. We want our residents to explore areas that interest them — they spend four to six weeks on elective rotations during PGY-3 and are allowed nine weeks of electives during PGY-4.
Residents rotate through the following:
Two inpatient neurology teams treat a wide variety of conditions. Under the supervision of faculty, residents assume much of the responsibility for patient care. Members of the neurology inpatient team work with the Neuroscience Intensive Care Unit (NSICU) team to care for critically ill neurological patients.
Overseen by a Department of Neurology faculty member, residents handle consults from other inpatient services and the Department of Emergency Medicine, including acute stroke alerts. This is the most active consultation service at the hospital.
Residents rotate through the NSICU during PGY-1, PGY-3 and PGY-4 under the supervision of NSICU intensivist faculty. On this rotation, residents learn to diagnose and manage patients with serious acute neurological conditions, with the hands-on opportunity to perform a number of procedures such as line placement.
Residents learn to perform and interpret routine and long-term EEG monitoring, for both adult and pediatric patients. In addition to reading EEGs, residents will also see epilepsy patients in clinic and receive instruction on the medical and surgical management of epilepsy syndromes. Neurology residents complete a minimum of two months of EEG training during their time in the program.

During a minimum of two months of EMG training, residents receive hands-on education in the diagnosis of neuromuscular conditions and their management. Residents gradually obtain more responsibility in performing nerve conduction studies and EMG, and after four weeks of training, they will be able to independently perform their own EMG procedures while under supervision.
In addition to performing EMGs, residents will also see patients in neuromuscular clinics, including the multidisciplinary amyotrophic lateral sclerosis (ALS) clinic.

The neurology services available at the Richmond-area Veterans Affairs hospital are integral to the Department of Neurology and its residency program. The rotations involve managing the inpatient service, consultations and EEG interpretation, plus they engage in neurology outpatient general and subspecialty clinics. Residents spend at least 12 weeks each year at Hunter Holmes McGuire VA Medical Center.

The night float rotation is two weeks long, consisting of in-house overnight call from Sunday to Friday nights, with Saturday night off. One junior and one senior neurology resident are on night float together, and they see emergency consults, including acute stroke alerts, and cover inpatient neurology services such as patients in the NSIICU and the Epilepsy Monitoring Unity.
Consults are staffed via phone overnight with a neurology faculty member. Night float residents present any admissions to the day team in the morning and leave most days by 9 a.m.
Our program is unique in that as part of our core curriculum, we provide residents with ample time in several dedicated outpatient subspecialty rotations, starting early in their training and continuing throughout their residency.
Part of this outpatient experience consists of an Ambulatory Care Center rotation, where residents can explore a variety of outpatient neurology subspecialty clinics of their choosing over the course of the two-week block.
Throughout their three years of training, residents also maintain a half-day per week of their own continuity clinic.
Residents manage inpatient and emergency room consults and advise the inpatient pediatric team. During this rotation, residents gain broad experience in the management and treatment of pediatric neurological disorders including epilepsy, developmental abnormalities and metabolic disorders. They are directly overseen by faculty specializing in pediatric neurology.

During PGY-4, residents will spend time as members of the psychiatry consult-liaison services at VCU Medical Center and Hunter Holmes McGuire VA Medical Center. This rotation exposes residents to the diagnosis and management of acute and chronic psychiatric conditions including delirium, depression, anxiety, psychosis, personality disorders and suicidality, plus the intersection of psychiatric conditions and a variety of medical conditions.

Under the guidance of a faculty research mentor of their choosing, each resident will engage in a research project during their training. Previous research projects have included basic and translational research, clinical research, outcomes and health utilization, education, health care disparities and clinical case presentations with literature review. Residents will also receive training from their mentors in topics of study design, funding and implementation.

In addition to the required outpatient rotations detailed above, additional elective time is provided during the 3 years of residency. Potential electives include (but are not limited to):
Neuro-radiology

Neuro-

O

phthalmology

Neuro-pathology

Neurosurgery

Headache/chemo-denervation

Movement disorders

Epilepsy

Neuro-cognitive/Dementia

Sleep

Neuromuscular

Neuro-Oncology

Global Health Neurology

Tele-neurology

TBI

Pain Medicine

Speech and

L

anguage Pathology
Residents may also use elective time to become more adept at electrodiagnostic tests like EMG, EEG, or to further pursue scholarly projects.
Didactics
Throughout the three-year program, residents take part in a multitude of didactic lectures and conferences facilitated by a combination of residents and faculty with expertise in the topics at hand. Current and upcoming didactic opportunities include:
Journal club
Morning report
Comprehensive subspecialty series exploring the neuroanatomy, neuropathology, clinical presentations and management of a variety of neurological conditions
Weekly updates on recent discoveries in the field
Localization rounds
Grand rounds
Board/Residency In-service Training Examination review series
Conferences in neurovascular, neuromuscular, neuroradiology, neuroanatomy, neuropathology, quality improvement
The business of neurology
The ethics of neurology
Conferences often include lunch for attendees. Residents also receive additional didactic experiences through individual subspecialty and elective rotations.
Vacation
Every resident gets 3 weeks of vacation per year, as well as additional time off around either Christmas or New Year's.

Current Residents
Meet our current residents
VCU Health System, Department of Neurology Housestaff are listed below.