Welcome to the Department of Neurology at VCU School of Medicine's residency program!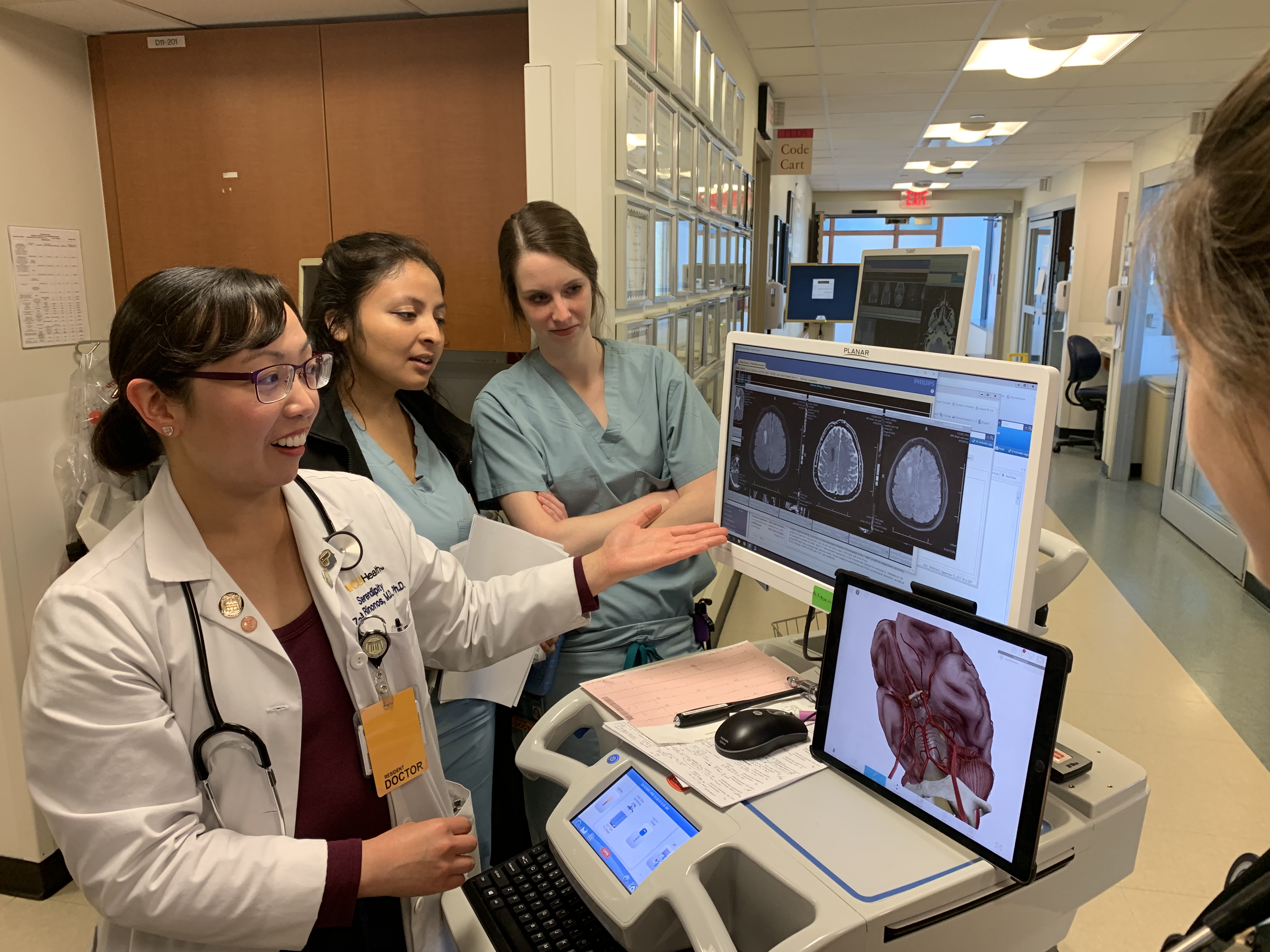 I am delighted that you're pursuing a career in neurology, a fascinating and dynamic field currently undergoing an incredible period of growth and discovery.
Our residency program provides world-class clinical training in a supportive and collegial environment, while ensuring our graduates obtain the skills they need to become leaders and pioneers in the field of neurology.
You can expect a comprehensive education in the diagnosis and management of common and rare neurological diseases in a diverse patient population. Skilled clinicians, researchers and educators who are deeply invested in your educational development and success will provide guidance and mentorship throughout your time at VCU.
Our program is designed with flexibility, and we encourage you to pursue educational opportunities and personal growth outside of your core clinical training. This gives you the chance to explore interests you may have in areas such as subspecialty care, research, education and international medicine.
Just as this is an exciting time to be a neurologist, it's an especially exciting time to be at VCU. Our department is experiencing a period of growth and development, allowing even more opportunities for our residents as they pursue careers in neurology. We're actively expanding our already robust complement of subspecialists and the residency program has grown to include eight residents. I'm excited for you to contribute your own passions, interests and talents to the growing department and leave your mark on the residency program.
Warmly,
Jon Snider, MD
Director, Neurology Residency Program
Department of Neurology
Each of the 13 blocks each year consists of 2 separate 2-week rotations.
PGY1: All residents who match into our program also receive a preliminary intern year in internal medicine at VCU. We have worked closely with our IM colleagues to craft an intern year that gives a strong foundation in medicine with rotations of particular relevance to future neurologists (including palliative care, hematology/oncology, and Neuroscience ICU experiences), as well as begins to prepare our preliminary residents for their neurology years. Preliminary residents rotate through the Neuroscience ICU and Stroke consult team, and also have a 2 week "neurology boot camp" block at the end of their intern year (launching in June 2021). Please see click here for more details on the preliminary year and a sample schedule.
PGY2: The goal of our PGY-2 year is to acclimate our residents to the care of acute neurologic conditions in the inpatient setting, while also giving them ample outpatient and elective experiences early in their training. This combination allows our residents to start their training with a well-rounded knowledge of neurology, while helping allowing them to begin exploring their specific interests. Roughly half their year is spent on inpatient services (Wards, Consults, Day float, Night float, and at the Hunter Holmes McGuire Veterans Affairs Medical Center consult team). The other half is spent on electives and outpatient rotations (including EMG, EEG, movement disorders, and neuro-ophthalmology).
PGY-3 and PGY-4: Our residents continue to develop graduated leadership responsibilities during these years, with PGY-3 residents taking on senior roles by the second half of the year. Residents continue to have ample elective and outpatient time in addition to their roles as inpatient team leaders, and also incorporate time in child neurology, psychiatry, and Neuroscience ICU.
Residents rotate through the following:
Two inpatient neurology teams, each consisting of a neurology faculty member, senior resident, junior resident, psych intern, and a nurse practitioner, diagnose and manage a wide variety of acute neurological conditions. Residents lead the care of the patient, overseen by the attending faculty member. A typical example census would have patients with acute strokes, seizures/status epilepticus, Multiple Sclerosis, AIDP, CNS cancers, Myasthenia Gravis, and autoimmune encephalitis. Members of the neurology inpatient team work with the Neuroscience Intensive Care Unit (NSICU) team to co-manage critically ill neurological patients, and residents on the inpatient teams are also part of the pool of doctors responding to and managing acute stroke alerts, as well.
The consult team, consisting of a neurology faculty member, senior resident, junior resident, nurse practitioner, and sometimes other rotating residents (medicine, neurosurgery, PM&R, etc). The team handles consults from other inpatient services and the Department of Emergency Medicine, with residents on the consult service also being in the pool to respond to acute stroke alerts. This is one of the most active consultation services at the hospital, with a wide breadth and depth of neurological conditions.
Residents rotate through the NSICU during PGY-1, PGY-3, and PGY-4 under the supervision of NSICU intensivist faculty. On this rotation, residents learn to diagnose and manage critically ill patients with acute neurological conditions, including strokes, status epilepticus, myasthenic crisis, and encephalitis; patients are co-managed with the neurology inpatient team. Residents have hands-on opportunities to perform and become certified in a number of procedures, such as line placements.
Residents learn to perform and interpret routine and long-term EEG monitoring, for both adult and pediatric patients. In addition to reading EEGs, residents will also see epilepsy patients in clinic and receive instruction on the medical and surgical management of epilepsy syndromes. Neurology residents complete a minimum of two months of EEG training during their time in the program.

During a minimum of two months of EMG training, residents receive hands-on education in the diagnosis of neuromuscular conditions and their management. Residents gradually obtain more responsibility in performing nerve conduction studies and EMG, and after four weeks of training, they will be able to independently perform their own EMG procedures while under supervision.
In addition to performing EMGs, residents will also see patients in neuromuscular clinics, including the multidisciplinary amyotrophic lateral sclerosis (ALS) clinic.

The neurology services available at the Richmond-area Veterans Affairs hospital are integral to the Department of Neurology and its residency program. The rotations involve managing the inpatient service, consultations and EEG interpretation, plus they engage in neurology outpatient general and subspecialty clinics.

The Day float resident is a PGY-2 who works with the consult team from 12PM-8PM Monday through Thursday, and 7AM-5PM on Saturday and Sunday; the Day Float has Friday off. This resident sees new consults in conjunction with the consult team, is in the pool for responding to acute stroke alerts, and also assists the inpatient team with procedures (LPs, etc) and education of residents and medical students.
The night float rotation is two weeks long, consisting of in-house overnight call from Sunday to Friday nights from 8PM-9AM, with Saturday night off. One junior and one senior neurology resident are on night float together and they see emergency consults (including acute stroke alerts), as well as cover the inpatient neurology services.
All consults are staffed via phone overnight with a neurology faculty member. Night float residents present any admissions to the day team in the morning and go home by 9 a.m.
Our program is unique in that as part of our core curriculum, we provide residents with ample time in several dedicated outpatient subspecialty rotations, starting early in their training and continuing throughout their residency.
Part of this outpatient experience consists of an Ambulatory Care Center rotation, where residents can explore a variety of outpatient neurology subspecialty clinics of their choosing over the course of the two-week block.
Throughout their three years of training, residents also maintain a half-day per week of their own continuity clinic.
Residents manage inpatient and emergency room consults and advise the inpatient pediatric team. During this rotation, residents gain broad experience in the management and treatment of pediatric neurological disorders including epilepsy, developmental abnormalities and metabolic disorders. They are directly overseen by faculty specializing in pediatric neurology.

PGY-4 residents will spend 4 weeks as members of the psychiatry consult-liaison services at VCU Medical Center. This rotation exposes residents to the diagnosis and management of acute and chronic psychiatric conditions including delirium, depression, anxiety, psychosis, personality disorders and suicidality, plus the intersection of psychiatric conditions and a variety of medical conditions.
All residents will participate in scholarly activity during their residency. All PGY-3's present a case at the yearly Night of the Cases dinner (with the highest rated resident receiving a free trip to present their case at the annual Virginia Neurological Society meeting at the Omni Homestead resort). All PGY-4's present at the departmental Grand Rounds. In addition, residents are encouraged to participate in a research project during their residency, under the guidance of a faculty research mentor of their choosing. Previous research projects have included basic and translational research, clinical research, outcomes and health utilization, education, health care disparities and clinical case presentations with literature review. Residents will also receive training from their research mentors in topics of study design, funding and implementation.
In addition to the required outpatient rotations detailed above, additional elective time is provided during the 3 years of residency. Potential electives include (but are not limited to):
Neuro-radiology

Neuro-

O

phthalmology

Neuro-pathology

Neurosurgery

Headache/chemo-denervation

Movement disorders

Epilepsy

Neuro-cognitive/Dementia

Sleep

Neuromuscular

Neuro-Oncology

Global Health Neurology

Tele-neurology

TBI

Pain Medicine

Speech and

L

anguage Pathology
Residents may also use elective time to become more adept at electrodiagnostic tests like EMG, EEG, or to further pursue scholarly projects.
Throughout the three-year program, residents take part in a multitude of didactic lectures and conferences facilitated by a combination of residents and faculty with expertise in the topics at hand.
Current and upcoming didactic opportunities include:
Journal club
Morning report
Comprehensive subspecialty series exploring the neuroanatomy, neuropathology, clinical presentations and management of a variety of neurological conditions
Grand rounds
Subspecialty conferences in neurovascular, neuromuscular, epilepsy, movement disorders, and quality improvement.
Updates in the field of neurology
The business of neurology
The ethics of neurology
Conferences often include lunch for attendees.
Yes! We work with each resident early in their training to connect each resident to a faculty mentor that is a good fit for their particular interests and career goals; mentors meet with our residents at least quarterly to discuss topics such as progress, career interests, and research. In addition to this, we connect our residents into less formal mentoring groups we call "Neuro Families", consisting of a resident from each year plus a faculty mentor; these groups do fun activities outside of work at least quarterly, and allow residents at different stages of their training to mentor one another.


The majority of our residents pursue fellowship, and we have had a 100% success rate in the past few years for our residents getting into their desired subspecialty, either at VCU or nationally. Recently graduating residents have been accepted to fellowships in neurovascular, epilepsy, neuro-oncology, sports neurology, movement disorders, neuro-physiology, and neuromuscular (to name a few).
The VCUHS GME Website (for residents & fellows) has detailed information about current housestaff salary, contract and benefits. The website also provides links to view information on various policies and overall information about VCUHS and the city of Richmond.
Every resident gets 3 weeks of vacation per year, as well as additional time off around either Christmas or New Year's.
Yes, our residents have been involved in activities such as Neurology on the Hill (visiting congressmen in DC, etc), and other health advocacy initiatives.
One of the most important questions you can ask! In additional to the variety of options at the hospital cafeteria itself, the hospital has a full service Wendy's, Einstein's Bagel, Chick-Fil-A, Subway, and a 24/7 Panera Bread. There are also a variety of food carts available directly outside the main hospital on weekdays. We also routinely provide lunch for lectures for our residents, as well.
Residents have access to the covered parking deck (D Deck) directly connected to the health system.
Coronda Lee, Medical Education Team Lead
Coronda Lee grew up in Virginia in the Hampton Roads area. She received her Bachelor of Arts in Psychology in 2014 from St. Leo University and her Masters in Program Management in 2018 from Colorado State University. Previously, Coronda served as a Program Coordinator at the University of Iowa in the Department of Neurology. She is looking forward to using her knowledge and experience to contribute to the strong education programs here at VCU.
If you have any questions about the Neurology Residency Program, please see Coronda's contact information below:
Coronda Lee, Medical Education Team Lead
Email: Coronda.Lee@vcuhealth.org
Phone: (804)828-9583
As Chief Residents, we want to welcome you to VCU Neurology! We are proud of the training we received here and want to highlight our experiences in this program. The biggest strength at VCU is the people you work with. You will build lifelong relationships with both your co-residents and your faculty members. There is a strong sense of camaraderie among residents, and there is an emphasis on residents-as-teachers, with senior residents taking an active interest in training the juniors. As a residents in a categorical program, we complete our intern year with VCU Internal Medicine. This helps to build a ​well-rounded base of knowledge in general medicine and helps to foster relationships with others in the hospital. We are fortunate to have faculty members from most every subspecialty of Neurology at VCU, and they are always willing to teach and mentor us, both formally and informally. This leads to a very collegial environment and as residents we have no reservations reaching out for even the smallest questions. We have had a rich clinical experience here, being exposed to the acute and chronic management of neurological diseases ​in the inpatient and outpatient setting, and experience with managing both common and uncommon diseases. If you have any questions regarding our program, VCU, or Richmond in general, please reach out to us!
Regards,
Adil Niaz, D.O.
Justin Nowell, M.D.