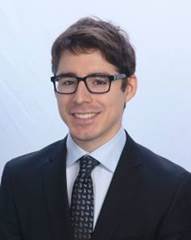 Jeffrey Schactner, M.D., H'19
As a student at the International American University College of Medicine, Jeffrey Schachter wasn't sure what specialty to choose for his residency. But before residency recruitment began during his final year, one of his preceptors in Ob/Gyn observed that he might be a good fit for neurology. Schachter rescheduled his neurology clerkship for before the match, and instantly knew that it was the right fit.
"Neurology within itself is a specialty that's really a black box, just a foreign concept to most people and there's so much you can do while still being an expert in a unique area," said Schachter, M.D., H'19. "There's just so much within neurology that you can really never be bored."
Schachter, who's now a neuromuscular fellow at the Hospital for Special Surgery in New York City, was drawn to VCU for its atmosphere and the relationships among residents and attendings. Reflecting on the residency interview process, he recalled that the physicians he met seemed genuinely interested in getting to know him as a person and he didn't feel like "just some other person to be interviewed."
"From very early on I felt supported," Schachter said. "Within our residency group we all tried to take care of each other, and I think we accomplished that."
During his final year at VCU, Schachter embraced that camaraderie and led the group as one of two chief residents. It was a role he didn't take lightly, and having previously worked as an assistant camp director, he was comfortable in a position that required leading people his own age.
"The number one goal of any chief resident is always being the calmest person in the room," he said. "The focus was to keep patients safe, keep residents safe, and try to keep everybody sane in a very busy, high-stress environment."
As Schachter begins to think about what's next after his fellowship, he's grateful to his colleagues and mentors at VCU who helped guide his education and career. Dr. Olavo Vasconcelos, for example, spent an entire afternoon teaching him the science of electrophysiology and the art of electromyography (EMG). Dr. Xinli Du, he says, "was always interested and engaged" and went out of her way to include him in papers and abstracts.
"I worked with so many attendings, and I could make a whole list of who has helped me on the way," he said.
When he isn't working, Schachter likes to stay active – he loves rock-climbing, running and cycling, and he and his wife take advantage of the city's offerings by attending Broadway shows and strolling through the parks.