Sanford Boisseau, affectionately known as 'Coach' by his players, friends and family because of his passion for baseball and basketball, was diagnosed with a rare type of brain cancer called glioblastoma multiforme (GBM) in March of 2016. Sanford would lose his battle with brain cancer after 13 months of fighting bravely. He passed away peacefully at the age of 67 on May 21, 2017.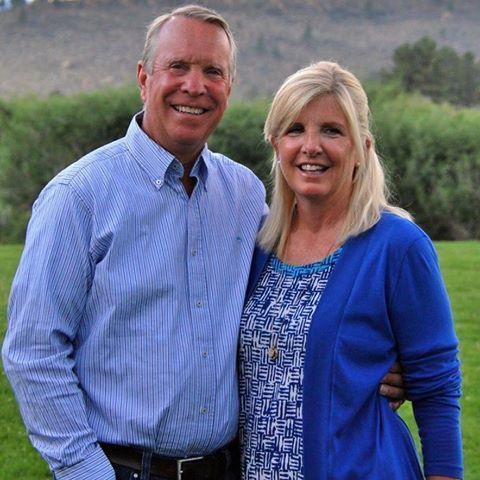 Sanford was no stranger to this particular disease since his brother had previously died from the same illness at age 27. Equipped with personal familiarity and now with first-hand experience, Sanford had an idea of what to expect upon his first consultation at VCU with Dr. Mark G. Malkin, professor and chair for the Division of Neuro-Oncology within the Department of Neurology. His wife, Robin Boisseau, remembers him saying to Dr. Malkin, "I know I probably am not going to live through this, but I want you to find something in me that can eventually help save someone else from this disease." True to his character, Sanford faced his illness and strived to overcome it while never fearing or complaining about his condition.
Before her husband's death, Robin says he encouraged her to carry on where he left off- to continue his fight and to never stop trying to help find a cure. Not long after Sanford succumbed to GBM, she was approached by the National Brain Tumor Society (NBTS) about a new event, the RVA Brain Tumor 5K being brought to Richmond to raise awareness, funds and other resources for brain cancer research and programs. Robin saw this as an opportunity to keep her promise to Sanford and joined the committee.
Coincidentally, in November of 2018, Robin would join the VCU Neurology Department as an administrative assistant for the Division of Neuro-Oncology, the same division that saw her husband through his illness and she fondly considers family. Having been on the planning committee for two years and now serving as co-chair, Robin approached VCU Health about becoming a legacy sponsor for the RVA Brain Tumor 5K. In the first two years VCU Health sponsored the NBTS RVA Brain Tumor 5K, participants raised over $500,000 for brain cancer research.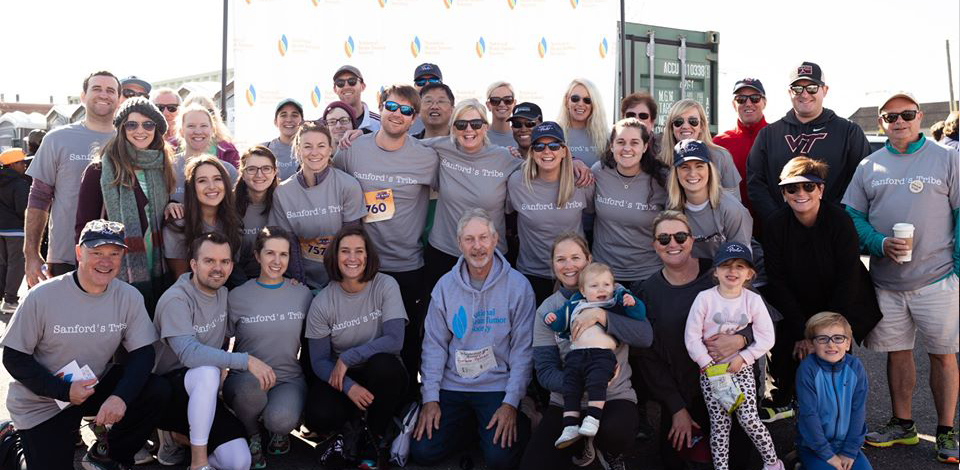 *2019 NBTS RVA Brain Tumor 5K
This year, Robin again served as co-chair of the Leadership Organizing Committee for NBTS and worked with VCU Health to transform the fundraiser into an engaging virtual event. The 2020 RVA Brain Tumor 5K, held on Saturday, November 7, raised a total of $106,915.86 – no small feat given the unique and challenging circumstances caused by the COVID-19 pandemic.
"Thank you to VCU Health for once again stepping up and sponsoring our event. I know that I am just a small part in trying to make a difference in the brain tumor community, but if we all just do a small part, we can make a huge difference," Robin stated. "I look forward to what we can accomplish when we all put our hearts and minds together."
Behind every cause and fundraiser are impactful stories of people who have created and continued to develop a path to raise awareness. Sanford Boisseau, beloved husband, father, friend and coach, lives on in memory. His story, however, is one of many that highlight the importance of fundraising for brain cancer research. Robin's advocacy and dedication to the NBTS RVA Brain Tumor 5K serves as a testament to Sanford's legacy and to the brain cancer community.