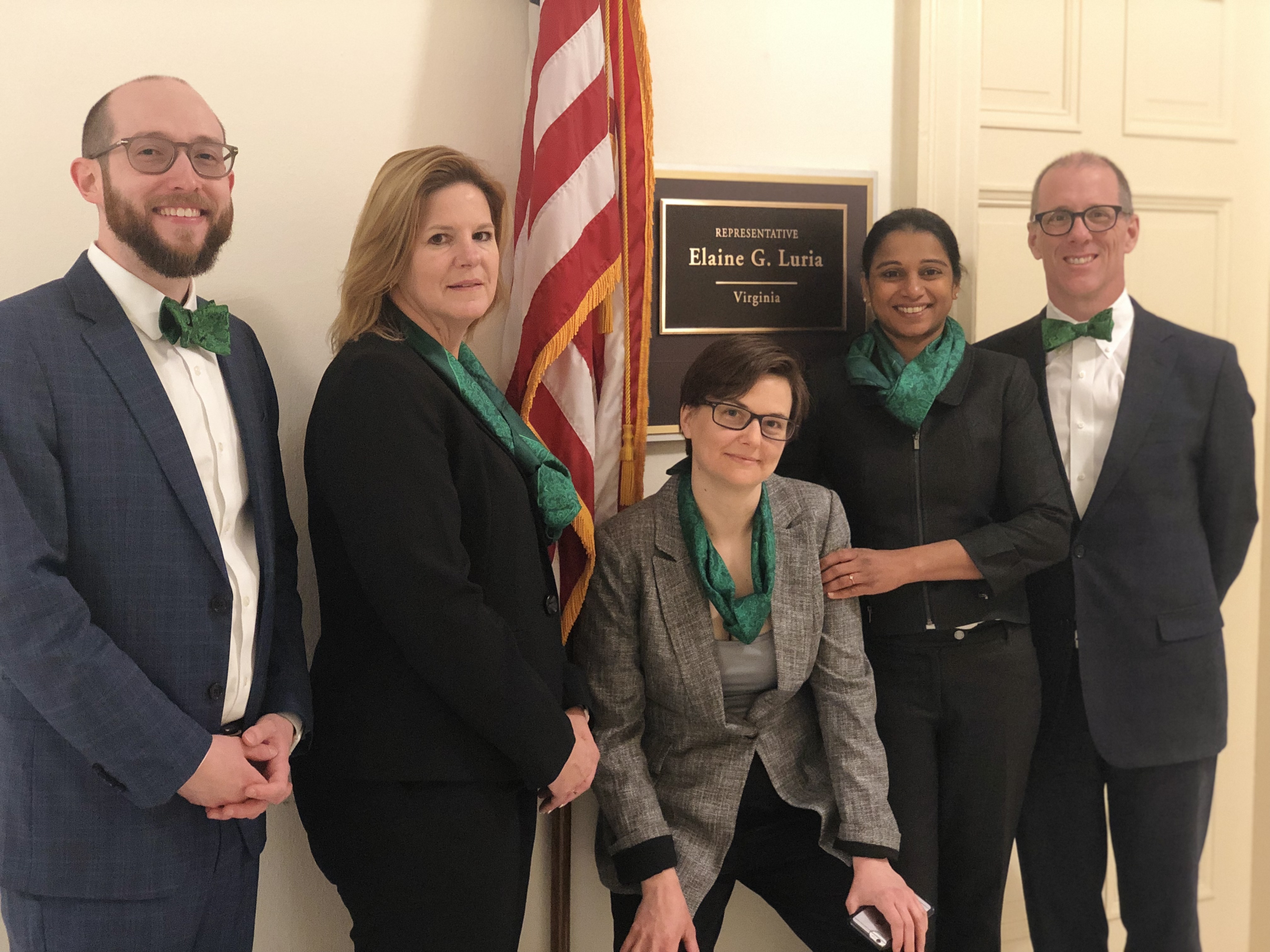 2019 Neurology on the Hill advocacy event, featuring Dr. Legge (standing left). Others in this photo include Dr. Gordon-Smith, Dr. Thagarajh, Alison Alford and Dr. Zukas
A career as a physician wasn't always on John Legge's radar.
Before medical school, his tentative plan was to get a Ph.D. in math or chemistry, become a teacher and design video games on the side. But that all began to shift when he took a job working as a medical assistant for a geriatrician in Memphis – that's where he "fell in love with geriatric medicine," which led him to the University of Tennessee College of Medicine. His coursework in neuroscience tied it all together, and he landed on adult neurology with a focus on patients with Parkinson's disease.
"For me it was a chance to be very pragmatic about medicine," Legge, M.D., H'19, said. "You can really make a difference."
Now a few months into a movement disorder fellowship at the University of California at San Diego School of Medicine, Legge reflects on the four years he spent at VCU for his internship and neurology residency.
"There's a certain family element and warmth to VCU," said Legge, who completed a year as chief resident in the summer of 2019. "The grind of training to be a physician is going to be hard wherever you go. If it's not, something's not going right. But at VCU you really have an atmosphere where people have your back. I felt supported, and that is what makes things much more manageable."
In his final year on the MCV Campus, Legge was a driving force behind that collegial environment as one of two chief residents. The role involved logistical tasks like scheduling, but it also gave him the opportunity to support his co-residents and help navigate communication and interpersonal relationships in the workplace. He also appreciated the chance to work more closely with the Department of Neurology's residency program director Jon Snider, M.D., an assistant professor who specializes in movement disorders.
As Legge's own medical training advanced, he honed his natural inclination to teach – he enjoys any opportunity to interact with medical students and is always happy to answer questions and share his passion for neurology. And that didn't go unnoticed during his time as a resident. In the spring of 2019, Legge was one of six residents on the MCV Campus to receive the Humanism and Excellence in Teaching Award from the Arnold P. Gold Foundation, an organization dedicated to prioritizing human interests, values and dignity in medical practice and teaching.
"I was not expecting to be recognized for that, but it was very nice and tremendously humbling," he said. "I was honored to be chosen, not just for myself, of course, but also for the Department of Neurology to be represented."
Noting that his schedule is more flexible now that he's a fellow, Legge said he and his husband, Kenny, have been taking advantage of their geographic location and traveling to places like Los Angeles, Northern California and Seattle. They also enjoy visiting wineries and breweries, trying new restaurants and taking their two dogs, and Rose, to the beach. And when he has time, Legge still loves to unwind by playing video games and tinkering with computers.
Legge is already beginning to consider what the next step will be after his fellowship, which ends in June 2020. And while continuing his clinical work as a neurologist is a priority, he's also committed to making the medical field better for everyone. A self-described "political junky," he envisions a career that involves lobbying as a health care advocate and working to reform policies that impact physicians and patients. Earlier this year, Legge attended the Palatucci Advocacy Leadership Forum, a conference held by the American Academy of Neurology that teaches neurologists the basics of action planning, media relations and grassroots advocacy.
"Physicians don't really advocate for ourselves as a group very well," he said. "We leave a lot of power to the bureaucrats, and they need our input."
Legge said once his fellowship is over, he and his husband are open to staying on the West Coast, depending on what opportunities arise. But a return to Richmond, with its proximity to family in Tennessee and advocacy work in Washington, D.C., is on their short list.